October 8th-11th, 2015 – Bouchercon 2015 – Annual World Mystery Convention – Raleigh, NC
Bouchercon is the world's finest annual crime fiction event, bringing together more than 1,000 authors, fans, publishers, reviewers, booksellers, editors, and every other part of the community for a fantastic four-day event. This is the 46th year. More than 400 authors, from the biggest names to those who will be big tomorrow.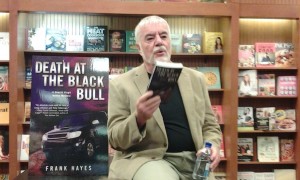 In this second book of the series, author Frank Hayes returns to the Southwestern town of Haywood where the onset of winter ushers in a new mystery for Sheriff Virgil Dalton. We welcome you to join Frank for reading, discussion and signing at 3:00PM!
Barnes & Noble
2518 South Road
Poughkeepsie, NY 12601
845-485-2224